The UT police have also asserted that they have discovered 21 shell businesses used to transfer millions of rupees to many bank accounts. Up to 24 cell phones, eight bank account kits, 16 shell company stamps, various flex boards of shell firms, and bounced checks have all been found.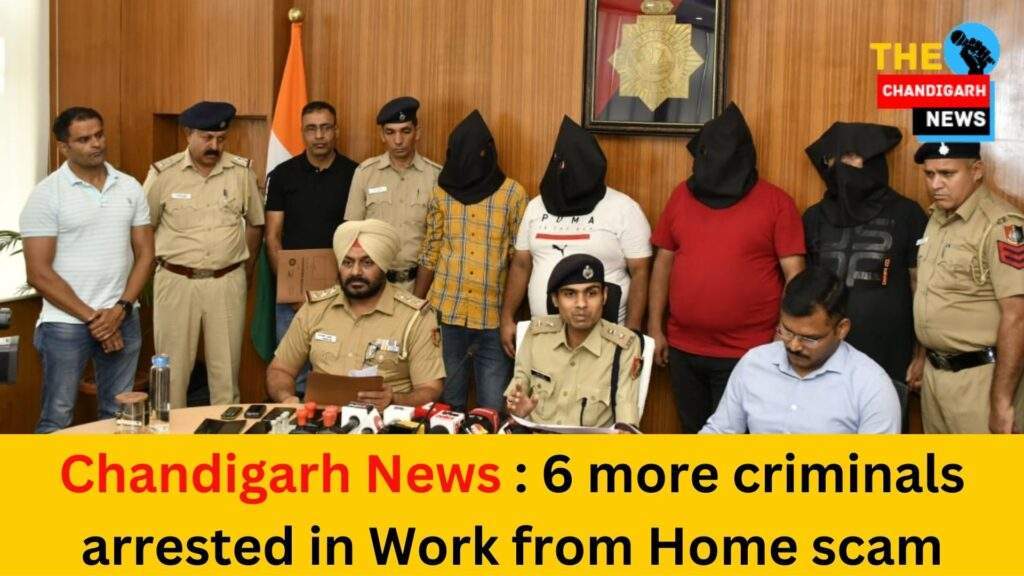 Chandigarh News police have detained nine people for allegedly defrauding residents out of Rs 92.56 lakh in three separate work-from-home scams. The scams involved luring victims with work from home opportunities before tricking them into investing huge sums of cash.
According to Chandigarh Police, over 181 residents of the city were defrauded of more than Rs 3.97 crore (3,97,34,533) in a work-from-home employment scam over the course of the previous seven months. Women who stay at home, college students, and the unemployed make up the majority of the victims. According to the police, nine people were detained in the Delhi NCR, Rajasthan, and Haryana regions.
The UT police have also asserted that they have discovered 21 shell businesses used to transfer millions of rupees to many bank accounts. Up to 24 cell phones, eight bank account kits, 16 shell company stamps, various flex boards of shell firms, and bounced checks have all been found.
Sandeep Kumar Sangwan (age 28), Manish Rawat (age 33), Rakesh (age 28), Aditya Sharma (20), Mahesh Sharma (age 34), Raj Kumar Narang (age 47), Pratik Maingi (age 35), Mahesh Kumar (age 35), and Vishal Verma (age 34) were the suspects.
6 more criminals arrested in 'Work from Home' scam from MP, Delhi & Raj

Probe revealed money laundering of cheated money through current accounts of shell cos. Bank accnts being handled by operators in Dubai to transfer money abroad

Further investigation underway@DgpChdPolice pic.twitter.com/Q6prPj9tPd

— Cyber Swachhta Mission Chandigarh Police (@ChdCyberCell) July 27, 2023
Chandigarh SP (Cyber Cell) Ketan Bansal stated
"According to the record of recorded complaints, it was discovered that over the last few months, a total of 181 complaints of work from home have been received, in which Rs. 3,97,34,543 were robbed from the innocent people of Chandigarh.
Prepaid task scams use messaging apps like Telegram or WhatsApp to deceive victims into accepting a false employment offer. These con games frequently prey on helpless people who are in need of cash and are looking for either full- or part-time job, such as liking or subscribing to YouTube videos or channels or liking and sharing on social networking platforms.
Sources claimed
that Kanwaljeet Singh and two ladies were the subjects of three complaints of cheating. Kanwaljeet claimed that a Telegram group had defrauded him of about Rs. 39,53,825 in his report. He got a Whatsapp message from someone offering him a side gig enjoying YouTube movies online.
The victim expressed his displeasure over the fact that the accused had initially offered him money for liking videos before inviting him to join a Telegram group. They advised him to make an investment in order to like social media posts and YouTube channels in order to increase his income. The complainant claimed that after paying Rs 39,53,82, he realized that he had been duped.
According to the Chandigarh police
the same scheme was used to defraud the two women of Rs 53,02,223. An anonymous caller claimed herself as Sagrika Yadav from Zebra techies Solution India Pvt Ltd, and one of the ladies stated to the police that she had sent her a random Whatsapp message.
She made her an offer for a part-time job that would allow her to work from home.The task required clicking on the links the alleged scammers gave and liking and subscribing to YouTube videos. The complaint claims that after enjoying their videos, they sent her Rs 210 twice and Rs 90 once, indicating that merchant tasks could also be purchased in advance.
She paid Rs 1,000 and Rs 5,000 as the initial payment for the merchant task. She was instructed to register for an account on the website of the multi-trading exchange corporation, http://www.bitfinex.com. The victim added that she was informed during account creation that she committed a mistake as a result of which the group's members were unable to work and are not receiving their money. She made the initial payment of Rs. 1,90,000 out of compassion, but ultimately lost Rs. 7,62,000 in the con.
Mode of operation
Victims initially got messages on WhatsApp or Telegram about a part-time online job. In the message delivered by the suspected scammers, links are frequently included as well. The victims were encouraged to join groups on Telegram and Whatsapp
where five to ten of their friends are already present after clicking the link or calling the number. By displaying their enormous wealth, the other members reassure the victims that the group is legitimate.
The victims are then instructed to like, subscribe to YouTube channels and videos, and interact with other social media posts. Additionally, they receive a small payment for the work they do. The victim is then prompted to make an account on a website created by the fraudsters by providing the user name and password on a Telegram group after they have been paid for their work.
The victims are then persuaded to make substantial investments after creating their accounts. The victims are also shown via Telegram or WhatsApp the money they have earned on their website account, but they are unable to withdraw it. They keep requesting additional money from the victims' deposits. The victim is removed from the group as the investment amount increases, and the website is trashed. They invite victims to invest additional money in a new organization for a new mission when they get in touch with them to retrieve their money.
Advocates, bank staff, and CAs participating in the fraud
The work-from-home scam is also being used by CAs, bank personnel, namely from IDFC Bank, ICICI Bank, and YES Banks, and advocates, according to the UT police. They establish their bogus trade company offices and open accounts with various institutions. In order to transfer the defrauded funds through the work from home assignment scam, the con artists look for vulnerable and destitute people and use bank accounts in their names. Additionally, they acquired mobile numbers associated with such low-income individuals and registered those numbers in bank accounts formed for fraudulent purposes.
#chandigarh news update #chandigarh weather #panchkula news #latest chandigarh headlines #chandigarh crime #news headlines live updates #chandigarh latest news